Features
Animal Magnetism
UNH alumni at the top of the horse racing world share a love of raw speed—and refined horses

By Virginia Stuart '75, '80G



Easy to print version
Make a comment
David Stephenson

FOAL AND MOM: Alyssa Strainer '06 in Lexington, KY.
It was one of the high points of Alyssa Strainer's life, and it lasted all of 46 seconds. In 2005, during the summer after her junior year at UNH, she was training to be a jockey in Saratoga Springs, N.Y. At 5 feet even and 98 pounds, she had the stature for the job—and she had been working hard to build the requisite strength. Unlike other riders, jockeys can't control a horse through their legs and seat; it's all in the arms. The small flat saddle used in racing, she explains, is just there so you can get off the horse's back. "We don't want to inhibit their motion, and that's why you see the short stirrups, because we're actually standing above the horse."
"Your triceps are flexed the whole time," says Strainer, who graduated in 2006, "and if you tire, you can get run off with. You don't feel like you can stop the horse. It's a 1200- to 1500-pound animal going 40 mph, and you're just along for the ride."
By this point, Strainer was a licensed exercise rider, and her arms were strong. It was on a June morning, after the fog had burned off, that she got to "breeze" a certain chestnut colt for the first time. "He had a big white face on him," she recalls. "He was really flashy." The colt knew just what to do as she brought him into an easy gallop and steered him toward the inside rail—the fast lane—for the breeze, which is a short, timed run at racing speed. At the 3/8-mile pole, she gave him a little rein and a cluck and went into a crouch over the saddle. As the powerful animal beneath her gathered momentum, the gallop felt like gliding over the ground, faster and faster. The horse's ears and wind-whipped mane framed her view of the track ahead, and she heard nothing but the drumbeat of hooves punctuated by the freight-train chugging of the horse's breath and the sound of her own voice urging him on.
Then they were over the finish line, and it was time to slow down. Strainer didn't know the official time yet—it would come in at just a hair under 40 mph. But she did know how it had felt. Freeing. The closest she would ever get to flying. And she knew this was what she wanted to be doing, what she was meant to do.
Richard Meirs '78 describes a similar feeling when driving a two-wheeled sulky behind a standardbred horse in harness racing: "You can't imagine the connection you have to a thousand-pound animal that's literally solid muscle, right there under your thumbs," he says, "and the emotional rush that comes when you perform together at a high level." This is the thrill—experienced directly or vicariously—that has driven horse racing through the centuries. Strainer and Meirs are among several UNH alums with ties to some of the fastest horses on earth—including last year's winners of the Kentucky Derby, the Belmont Stakes and the Hambletonian Stakes, also known as the Kentucky Derby of harness racing. All of them share a love of raw speed and refined horses—and a fervent hope that their industry, increasingly beset by economic challenges and ethical concerns, can survive.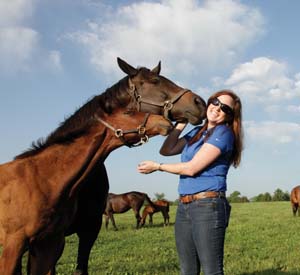 David Stephenson

At 28, Strainer has reached the upper echelons of thoroughbred racing—but not by the path she envisioned on that shining day in June. There is, unfortunately, an inherent danger in moving at a high speed perched atop an unpredictable creature just barely under your control, with no more protection than a helmet and a foam vest. She was injured several times that summer, suffering two concussions in three days. Then on an oppressive day in late August, a horse she was riding spooked and headed for a large piece of farm equipment. Strainer jumped off, and the next thing she knew, she was lying on the ground unable to see or speak. As light poured back into her field of vision, the people who had crowded around told her that she had been trampled. Face down. Her injuries included a broken jaw, teeth, hip and leg. There were copious amounts of "road rash" and horse-shoe-shaped bruises all over her body. Two days later, as she gazed at the x-ray of a compression fracture in her neck, the magnitude of what had happened—and what could have happened—hit her.

Within a few days, Strainer was back on a horse, but it didn't feel right. She was, however, able to drive back to UNH—without changing lanes—and start her senior year. She was still an equine studies major, but with a new mission: to find a way to make a living doing something she loved without risking life and limb. The equine program had just split off from animal science and now offered three tracks: therapeutic riding, equine science (in preparation for veterinary or graduate school) and equine industry and management. Strainer chose the management track, combined with a minor in business.

After graduation, Strainer took a job at a thoroughbred training farm in Connecticut. But she soon moved to Lexington, Ky., to work at a "bloodstock," or thoroughbred-breeding and sales, agency. Today she is director of sales at Denali Stud, one of the top bloodstock agencies, with annual sales of $20-30 million. The owner is a former jockey who retired after a racetrack accident left him without the use of his right arm.



Page: 1 2 3 4 Next >

Easy to print version

blog comments powered by