Campus Currents
A Scholar Goes to the Movies
By Walter Eggers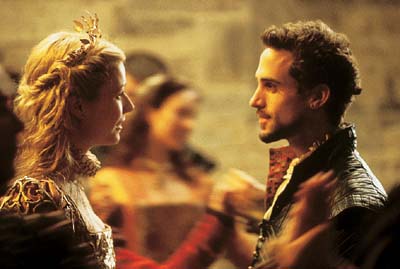 Gwyneth Paltrow and Joseph Fiennes in "Shakespeare in Love."
These are high times for Shakespeare teachers. Shakespeare plays dominate the theater, and one good film version comes out after another, each a box-office success. Now "Shakespeare in Love," a biographical version of "Romeo and Juliet," wins the Oscar for best picture of the year. As someone who is supposed to have authorized opinions on this subject, I have been asked repeatedly if it is "all right" to like this movie. I sure do, and I want all my Shakespeare students to see it.
I like the vivid image of the Elizabethan theater it presents, but even more I am grateful to see Shakespeare represented as a young man (Joseph Fiennes) whose passion and frustrations are part of his plays. In fact he did not depend very much on real life for the stories of his plays—he found most of them in books—and his biography is deliberately distorted so we think he loved a living prototype (Gwyneth Paltrow) of Juliet and Viola. But because students often regard the plays as cultural monuments that they're not qualified to read, much less appreciate, I value how engaging the characters in this film are. The audience sees his plays as human creations they can absorb and enjoy.
The movie folds rehearsal-scenes together with love-scenes, and puts everything at stake at the ending. There we witness a once and forever performance of the play: Shakespeare's true love—and all the romantic heroines of his imagination—cast as Juliet, and Shakespeare himself as Romeo. The effect is just right. The movie audience becomes Shakespeare's theater audience, excited about the show and hoping for the best. Now come my favorite moments in the movie. A hopeless, stuttering prologue speaks his speech perfectly. From the audience, the Nurse blurts out that Romeo is dead! How can plays created out of noise and confusion and full of accidents and coincidences work so well—or at all? "It's a mystery," the movie keeps saying. When the performance is over, the stunned audience does not applaud for a long, terrible moment. I like this movie most for its tribute to the power of Shakespeare's plays.

Walter Eggers, provost and vice president for academic affairs at UNH for the past 10 years, will join the English department this fall, where he will teach a subject he loves—Shakespeare. A nationally-known scholar, Eggers has authored articles and books on Shakespeare, literacy history and theory, and teaching. He currently chairs the Higher Education Commission of the New England accrediting body. President Joan Leitzel expressed her appreciation for Egger's service to the University, saying, "It has been a privilege for me to work with Walter Eggers. He has served as provost at UNH under a record number of presidents and, in spite of various kinds of institutional instability, has kept academic programs on track and standards high. UNH has been fortunate to have him as a senior administrator."
Easy to print version
blog comments powered by